April 19th Parade of Cherubs
International Congenital Diaphragmatic Hernia Awareness Daily Celebration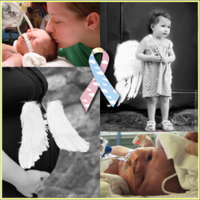 Join us as we march to raise Congenital Diaphragmatic Hernia Awareness as well as support for the CDH Research Bill. Everyone is welcome to participate.

When
- Thursday, April 19, 2012.
Where
-
SSM Cardinal Glennon Children's Medical Center
Join the St. Louis Fetal Care Institute and CHERUBS for the first annual Parade of Cherubs to raise awareness about Congenital Diaphragmatic Hernia (CDH) on April 19, 2012. Families and friends who have been impacted by CDH will come together to build awareness about this birth anomaly that is just about as common as spina bifida and cystic fibrosis, and effects thousands of families every year.
At 6:30 p.m. everyone is encouraged to meet for a cake and punch reception in the lobby of SSM Cardinal Glennon Children's Medical Center (1465 S. Grand Blvd.• Saint Louis, MO 63104) to meet other CDH families. At 7:15 p.m. the Parade of Cherubs will start in the lobby and end at the outdoor verandah of the hospital along Grand Blvd. Following the parade a short candle light ceremony in honor of all those touched by CDH will be held, then a lighted balloon release in memory of all those who have earned their wings will conclude the event.

6:30 p.m.
Cake and punch reception in the lobby atrium of SSM Cardinal Glennon Children's Medical Center
Participants will have the opportunity to sign and decorate our CDH Awareness banner

7:00 p.m.
Candles and wings distributed

7:15 p.m.
CDH Awareness March from the lobby atrium to the outside verandah of Cardinal Glennon

7:30 p.m
Participants arrive at verandah of Cardinal Glennon
LED candles and glow sticks turned on
Balloons distributed
Dr. Yang thanks everyone and speaks to the importance of CDH Awareness
CDH parents will read facts about CDH

7:40 p.m.
A CDH Mom will say a short poem or prayer
The children will release the balloons
Who Can Participate
- anyone who wants to raise CDH Awareness. Please register with us to participate!
What to Wear
-
CDH Awareness gear, the official CDH Awareness Ribbon
. All children are encouraged to wear wings. Wings stand out better on bright colored clothes. Wear comfortable walking shoes!
What Not to Wear
- Anything trademarked or copywritten materials or phrases. No turquoise please.
Wings
- you can borrow wings on April 19th if you make prior arrangements above or purchase your own wings at
http://www.savethecherubs.org
. Wings are also available at many party supply stores.
Please NOTE
- by participating you give CHERUBS full permission to take and use photos in our charity literature, with the media and to raise CDH Awareness in our
Save the Cherubs Congenital Diaphragmatic Hernia Awareness campaign
!
CDH Kids Song

I'm a real live cherub but I don't have wings
When I was a baby the doctor had to fix things
My tummy was in my chest and it was hard to breathe
He put it all back and here's where he fixed me!

Congential Diaphragmatic Hernia Research Bill
In support of research funds for the severe birth defect, Congenital Diaphragmatic Hernia.

Sponsor - Sen. Jefferson Sessions


CDH affects 1600 babies in the United States every year, with a 50% mortality rate. It occurs when the diaphragm fails to fully form, allowing the organs into the chest cavity and preventing lung growth. The cause of Congenital Diaphragmatic Hernia is not known. There is very little research on CDH, even though it is as common as Cystic Fibrosis and Spina Bifida. More research funds are desperately needed and we are appealing to the United States government to help these babies.