CDH Awareness - Chicago Parade of Cherubs

Thursday, April 19, 2012 from 11:00 AM to 2:00 PM (CT)



Register For The Parade at http://chicago2012paradeofcherubs.eventbrite.com/
Facebook Event Page -
http://www.facebook.com/events/402344086447657/
Event Schedule:
11:00 a.m. – Arrive at Oz Park (Northeast end off of Lincoln Ave) – 601 W Webster Ave, Chicago, IL 60614
11:15 a.m. – Moment of silence to remember those CHERUBS lost
11:20 a.m. – Balloon launch
11:30 a.m. – Wrap up pictures and begin march/parade (1.2 miles)
12:15 p.m. – Finish march back at Oz Park
12:30 p.m. – Walk to Buffalo Wild Wings (about ½ mile from park) for Lunch (http://www.buffalowildwings.com/) –
2464 N. Lincoln Ave., Chicago
2:00 p.m. – Good-byes
April 19th Parade of Cherubs
International Congenital Diaphragmatic Hernia Awareness Daily Celebration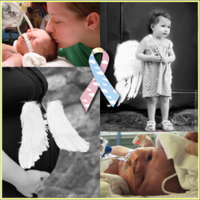 Join us as we march to raise Congenital Diaphragmatic Hernia Awareness as well as support the CDH Research Bill. Everyone is welcome to participate.
Contact Person - Neil Rubenstein at illinois@cherubs-cdh.org
Facebook Event Page
(more up to date details) -
https://www.facebook.com/events/402344086447657/
When
- Thursday, April 19, 2012.
Where
- Oz Park (Northeast end off of Lincoln Ave) – 601 W Webster Ave, Chicago, IL 60614
What
- we will march to raise awareness Along the parade route we ask everyone to sing the "CDH Kids Song" (video below) and will ask some to carry Save the Cherubs posters to help raise CDH Awareness.
Who Can Participate
- anyone who wants to raise CDH Awareness. Please register with us to participate!
What to Wear
-
CDH Awareness gear, the official CDH Awareness Ribbon
. All children are encouraged to wear wings. Wings stand out better on bright colored clothes. Wear comfortable walking shoes!
What Not to Wear
- Anything trademarked or copywritten materials or phrases. No turquoise please.
Wings
- you can borrow wings on April 19th if you make prior arrangements above or purchase your own wings at
http://www.savethecherubs.org
. Wings are also available at many party supply stores.
Please NOTE
- by participating you give CHERUBS full permission to take and use photos in our charity literature, with the media and to raise CDH Awareness in our
Save the Cherubs Congenital Diaphragmatic Hernia Awareness campaign
!
CDH Kids Song

I'm a real live cherub but I don't have wings
When I was a baby the doctor had to fix things
My tummy was in my chest and it was hard to breathe
He put it all back and here's where he fixed me!

Congential Diaphragmatic Hernia Research Bill
In support of research funds for the severe birth defect, Congenital Diaphragmatic Hernia.

Sponsor - Sen. Jefferson Sessions


CDH affects 1600 babies in the United States every year, with a 50% mortality rate. It occurs when the diaphragm fails to fully form, allowing the organs into the chest cavity and preventing lung growth. The cause of Congenital Diaphragmatic Hernia is not known. There is very little research on CDH, even though it is as common as Cystic Fibrosis and Spina Bifida. More research funds are desperately needed and we are appealing to the United States government to help these babies.