Join us to raise CDH Awareness on April 19th!
April 19th UK Jump for CDH Awareness
join us in raising CDH Awareness


Sponsor at https://www.firstgiving.com/10125/cdhawarenessday2013

Contact Persons - Clair Maher and Melanie Parsons uk@cherubs-cdh.org

What - Parachute jump to raise CDH Awareness and Funds

Who Is Jumping - Clair Maher, Neeran Joynson, Michael Lang and Lyndsey Sheridan

Who Can Participate - anyone who wants to raise CDH Awareness can wear a shirt or wings for the day at your school, work, etc. Anyone can sponsor the event by donating.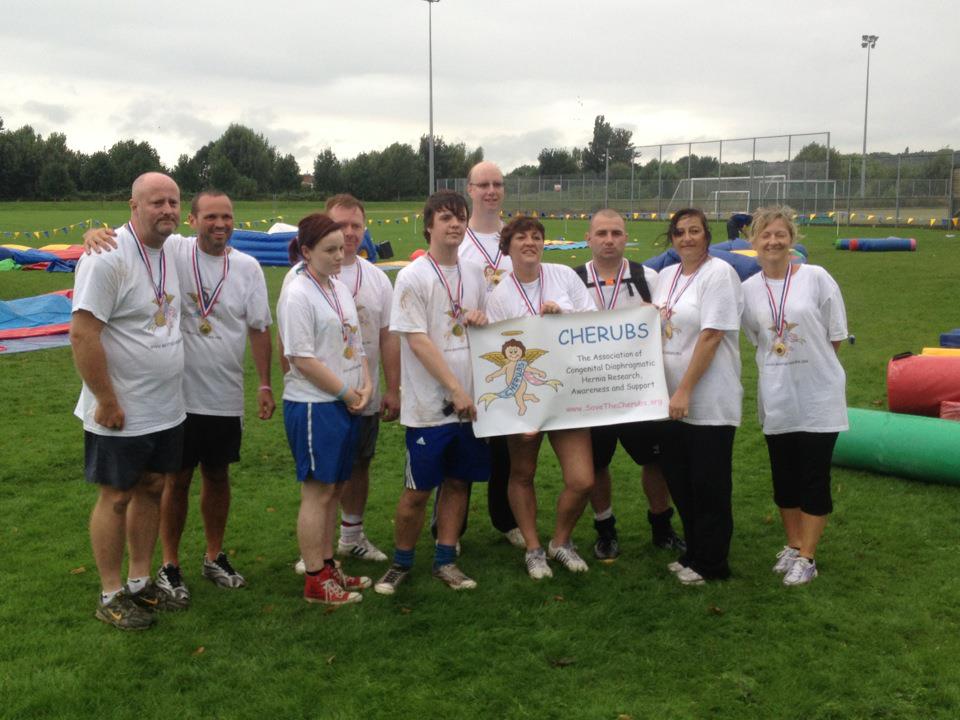 50% of all local sponsorships and t-shirt sales and donations will go towards CDH Research at
Royal Manchester Children's Hospital
Official T-Shirts are highly encouraged for the event and also help raise much needed funds for CDH!

Wings - you can borrow wings on April 19th if you make prior arrangements above (we have a very limited few) or purchase your own wings at http://www.cherubs-cdh.org/savethecherubs. Wings are also available at many party supply stores.

Please NOTE - by participating you give CHERUBS full permission to take and use photos in our charity literature, with the media and to raise CDH Awareness in our Save the Cherubs Congenital Diaphragmatic Hernia Awareness campaign!
Learn more about CDH and CHERUBS at http://www.cdhawarenessday.org.
The Official 2013 Day of CDH Awareness T-Shirt is now on sale!



50% of local sponsorships and proceeds from the sales of t-shirts will go to CDH Research at Lurie Children's Hospital and 50% to CHERUBS.
Order your 2013 CDH Day before March 31st to receive in time for April 19th events.
Participate or Sponsor a Parade of Cherubs!
https://www.firstgiving.com/10125/cdhawarenessday2013
T-shirt order and sponsorship deadline is March 31, 2013
Parade Participation
free
Parade Participation + Adult T-Shirt
$20.00
Parade Participation + Child T-Shirt
$15.00
Blue Cloud Sponsorship
$5,000.00
Pink Cloud Sponsorship
$1,000.00
Yellow Cloud Sponsorship
$500.00
White Cloud Sponsorship
$100.00
Meet our United Kingdom International Representative, Clair Maher and Melanie Parsons. You can reach them at uk@cherubs-cdh.org
More April 19th CDH Awareness Parades:
More April 19th CDH Awareness Events:
View a more up-to-date list of events at www.cdhawarenessday.org
Hold your own CDH Fundraiser or Event in honor/memory of your cherub with the CDH Fundraising Kit! It includes 2 posters, balloons, brochures, donor info and instructions on how to hold many simple events!

Talk to Melissa Larrison, our Fundraising Coordinator, to get started!